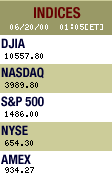 Click on index
for more information


More Toys
| | |
| --- | --- |
|    | |
NEW YORK — Here's a round-up of some of the other toys — some high-tech, some low-tech — on display at the American International Toy Fair:
A new gadget that could quickly become the rage — and seems destined to be banned by teachers across the nation — is friend.link from Playmates. Described by a spokesman as "note-passing for the new millennium," it is a small device that combines the qualities of a pager and email, allowing text messages to be sent via a digital radio signal to one or more other devices within about a 50-foot radius. The $20 device, out next week, can also be programmed with personal information; it will then beep if it passes someone else whose friend.link signals "high compatibility."

As mentioned, Hasbro Interactive is coming out with one potentially very catchy product that spans age categories and takes advantage of the most popular use of the Internet, email. With Email Games CD-ROMs coming out this month, people can play Scrabble, Battleship, Chess and Checkers and other games over the net. The player on the other end needs only a Window-based PC — not the disk — to take a turn.

But Hasbro may be taking the technology trend one step too far. It is putting its classic Easy-Bake Oven on a CD-ROM. An adapter that sits atop a keyboard allows little bakers to fake-mix and fake-pour with little plastic beaters and cups. Unlike what comes out of the real Easy-Bake Oven, you can't eat virtual brownies. Instead of a buzz, this product is more likely to generate a grumble — from the empty stomachs of the kids who use it.

But the "no-tech" keyboard adaptor is a clever contraption and works better with another program, the Playskool Store Cash Register, where the user, as the cashier, is confronted by customers making purchases.

Mattel is pushing a line of CD-ROM products too. Create and Draw in Elmo's World brings to animated life on the screen whatever scribblings a child makes with an interactive pen. Music Magic lets kids orchestrate a rock band of Sesame Street characters. Barbie, now 40 years old, does dance routines with a "new generation girlfriend" on a Gotta Groove CD-ROM and masquerades as Sleeping Beauty on another. Another has Barbie snowboarding and rollerblading — and sometimes crashing. "The girls love to see Barbie fall," a spokeswoman explained.

Most of the digital games are meant to be used with a digital camera that lets kids put their face in the action. Barbie still exists in the real world, too, and a new series of "celebrity friends of Barbie" dolls, such as Rosie O'Donnell, will be out in July.

If it doesn't interact, it probably shoots. Hasbro's Nerf, which has always offered its share of foam weapons, gets more realistic this year with "air-jet power," a compression system that allows a new foam dart shooter to fire like an automatic machine gun. "It's sort of bad PR to be involved in army toys ... but it's great business — kids love playing with that kind of stuff," said toy consultant Chris Byrne, adding that toy soldiers are also still selling.

In a remarkable showing for a toy without a chip or even a battery, sales of miniature cars such as Matchbox and Hot Wheels were up 28 percent last year, Toy Manufacturers of America reported this month. With that in mind, Hasbro is putting the hard sell on its third-ranking Winner's Circle cars, with an emphasis on NASCAR racers and vehicles.

Unwilling or unable to give the public a peek at its new Star Wars merchandise, Hasbro is trying to draw attention to its other action figure offerings: TV-tie-ins Beast Wars and Animorphs are recent additions to a resurgent line of Transformers toys. "Beyond Batman" toys follow a new series in which Bruce Wayne retires and turns over his cape and mask to a fill-in.

And to mark G.I. Joe's 35th year — he's five years younger than Barbie — the classic old-style 12-inch dolls will be back on shelves.

© , News Digital Media, Inc. d/b/a Fox News Online
All rights reserved. Fox News is a registered trademark of 20th Century Fox Film Corp.
Data from Thomson Financial Interactive is subject to the following Privacy Statement