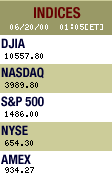 Click on index
for more information


The Week Ahead
| | |
| --- | --- |
| | |
Major business events and economic events scheduled for the coming week (some dates are tentative; times, where known, are Eastern time):
  

  

Sunday,
Feb. 7
Wireless 99 convention (Cellular Telecommunications Industry Association) opens. Through Feb. 10.

  

  

Monday,
Feb. 8
Treasury auctions 3-month and 6-month bills. 2 p.m.

FCC chairman William Kennard speaks at the Wireless 99 convention.

Pacific Salmon Commission holds annual meeting; discussions involving U.S.-Canada treaty. Through Feb. 12

Opening of Toy Fair.


  

  

Tuesday,
Feb. 9
Labor Department releases fourth-quarter productivity report. 10 a.m.

Treasury auctions 5-year notes. 2 p.m.


  

  

Wednesday,
Feb. 10
Treasury auctions 10-year notes. 2 p.m.

National Association of Realtors releases metro areas home prices for fourth quarter. Time uncertain.

National Advisory Commission on the Future of Medicare meets to consider changes in the program.

  

  

Thursday,
Feb. 11
Labor releases weekly jobless claims. 8:30 a.m.

Commerce Department releases retail sales for January. 8:30 a.m.

Treasury auctions 30-year bonds. 2 p.m.

Freddie Mac releases weekly mortgage rates. Time uncertain.

National Park Service holds public hearing on its plans to experiment with logging as part of its management plan for forests in the Grand Canyon National Park.


  

  

Friday,
Feb. 12
Commerce Department releases business inventories for December. 8:30 a.m.

Rally by protesters trying to keep mining out of Buffington Island Civil War battleground.


  

  

  
© 1999, News America Digital Publishing, Inc. d/b/a Fox Market Wire.
All rights reserved. Fox Market Wire is a trademark of 20th Century Fox Film Corp.
© 1999 Associated Press. All rights reserved.
This material may not be published, broadcast, rewritten, or redistributed.
© 1999 Reuters Ltd. All rights reserved